SCREEN-AMMO
Shooting Cinema Range Entertainment with Environmental and Nontoxic Ammo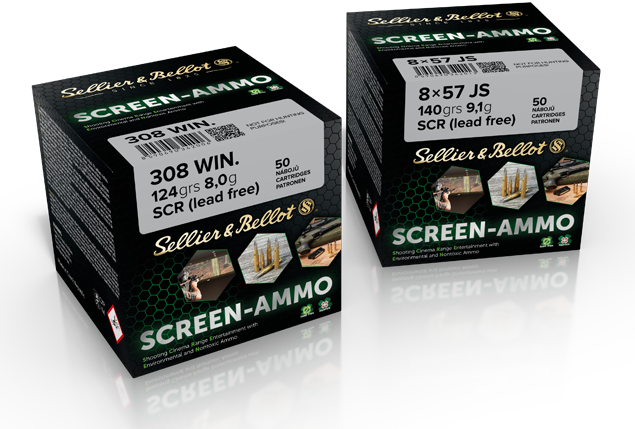 COMPLETELY LEAD FREE AMMUNITION
NONTOX PRIMER
LEAD FREE BULLET
SHORT DISTANCE SHOOTING
LOWER RECOIL
As the name implies, SCREEN-AMMO has been specially designed for use in modern shooting cinemas.
These cartridges come with a unique, patent-protected NONTOX primer that does not contain any traces of heavy metal in its emissions, such as lead, mercury, barium, and antimony. Use of this ammunition does not harm the shooter's health, pollute the environment, or contanimate the gun.
The bullet's core is made from zinc, which means there is no vaporization of heavy metals into the air. In addition, the bullet is tin plated to reduce friction in the barrel and allow for clear visual identification.
Muzzle velocity has been decreased in order to reduce recoil. This allows you to carry out more intense training sessions, while maintaining a high level of comfort during shooting and ensuring the reliable functioning of semi-automatic hunting rifles. Lower recoil ammunition is also advantageous for female shooters and beginners.
Compared to standard hunting ammunition, the mean point of impact for short distance shooting in shooting cinemas remains unchanged. Therefore, it is not necessary to adjust the sights.
223 REM. 40 grs/2.6 g
V342022
6,5 × 55 SE 100 grs/6.5 g
V542452
7 × 57 100 grs/6.5 g
V342042
7 × 64 100 grs/6.5 g
V342052
308 WIN. 124 grs/8.0 g
V342002
30–06 SPRING. 124 grs/8.0 g
V342032
300 WIN. MAG. 124 grs/8.0 g
V342062
8 × 57 JS 140 grs/9.1 g
V342012
9,3 × 62 160 grs/10.4 g
V342462
WARNING: Cartridges are only intended for use in shooting cinemas and during training exercises. Do not use for hunting!